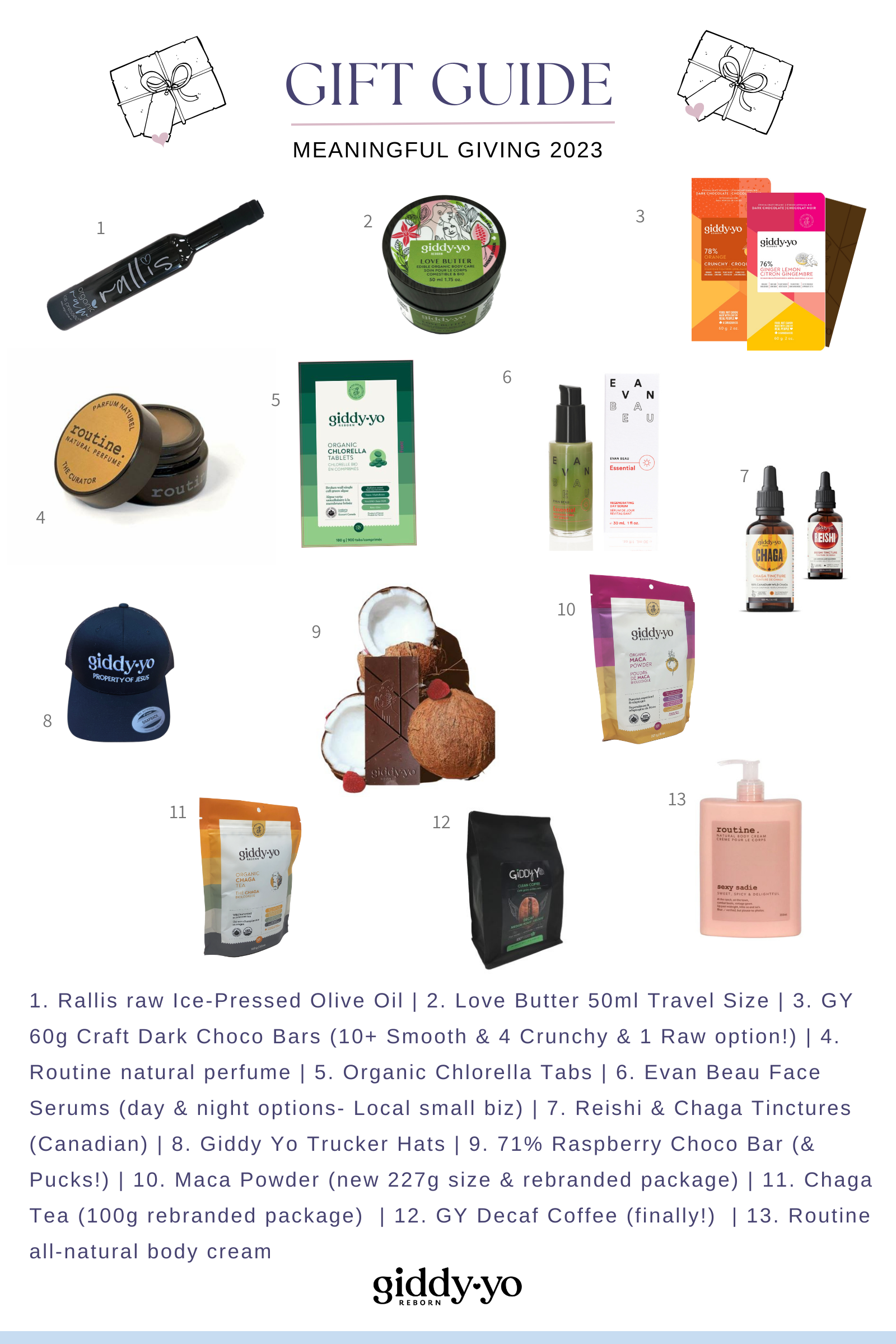 We hope you find our curated guide of meaningful gifts helpful as you navigate your way through the holiday gift-giving season!

Wishing you all joy & health and a New Year of peace and prosperity!


1. Rallis Ice Pressed Raw Organic Olive Oil
A gift that's sure to impress. Bring as a hostess gift, for the kid's teacher, or grab a case for gifting to valued employees. Rallis Ice pressed ® olive oil is as pure as olive oil gets- unblended, unfiltered, healing and a great addition to salads, smoothies, coffee, grilled veggies (after the grilling that is), or on its own as a part of your natural medicinal regime.
The perfect gift for new mamas, couples, the outdoor enthusiast, your best friend, and the person who has everything. Four plant-based organic nourishing edible ingredients synergistically blended to create a creamy cruelty-free multi-purpose full body moisturizer. Love Butter makes a fantastic massage lotion, personal lubricant, hair mask, make up remover, baby bum protector, low SPF sunscreen & burn healer, eczema relief, coffee creamer, and the list goes on. Once discovered you'll never want to be *without (see *GY coffee below).
3. Craft Giddy Yo Dark Chocolate
Single origin premium specialty Ecuadorian cacao handcrafted, and hand wrapped with love, our chocolate truly is special. Eat it and take a moment to feel what's going on and you'll understand why we say this. Your friends and fam will love some (or all) 20+ flavours that range from 100% - 71%. Create your own mixed case of 20 and add bars to everyone's stocking! Now in new, fresh packaging, our new bar design is thinner and snappier! Employee favourites are Raspberry, Orange Crunchy, and Original and 1kg sweet vanilla for baking!
Toxic body care not your thing? Fantastic - we've got you covered! Routine Inc. offers all natural essential oil scented solid perfumes (and deodorants) in drool-worthy and addictive scents. The perfect little present for your gurls (and dudes too- esp the Curator and Superstar). We offer 5 perfume options - the Curator, Sadie, Superstar, Cat Lady, and Hipster.
Chlorella tabs are the perfect gift for your health and wellness focused peeps! Packed with nutrients and known for their detoxifying properties, Chlorella Tabs make an excellent addition to any wellness-inspired gift whether you're putting together a gift basket, spa kit, fitness bundle, or nutritional starter pack, these little green tablets will undoubtedly add a touch of health-consciousness to your presents. Also check out our Spirulina Tabs and powdered forms for more ideas!
6. Evan Beau
My friend Lauren owns & operates her sweet business and formulates each product. Believe me when I say she is LOVELY, and her products follow suit- they are clean and effective and fairly priced, just the way we like it! The serums are fragrance-free but smell like refreshing green seaweed and is applicable to all skin types (except sensitive/rosacea-prone skin)!
We all know someone who loves mushrooms, and for good reason! Our tinctures are made using only mature Canadian Chaga sustainably harvested from living trees from within the northern boreal forest. Easy to use, convenient and powerful.
8. Hats
We don't just love dark chocolate, coffee & superfoods, we also love to SHARE what we love with others- enter the Giddy Yo trucker caps! Share your love of Giddy Yo and your faith with style with our Giddy Yo snapback trucker cap in 5 different colour combos! This trendy accessory boldly proclaims your ownership by the King of Kings and lets the world know where your heart lies.
9. Raspberry Coconut Bar & Pucks
If you've ever visited us at a tradeshow you'll know that we have the ability to make coin shaped (aka 'pucks') chocolates as samples. Enough of you asked if you could buy the chocolate in this format, and now you can!! For all the dark choco fans who think a 70% may be too sweet- this bar is not too sweet! The chocolate itself is 76% dark however once you add all the other ingredients the math makes it a 70%. We add the coconut to the chocolate mass as well as sprinkle it on the backside, so the texture is on point.
10. Maca Powder
Known for its numerous health benefits and energizing properties, maca makes a wonderful addition to any thoughtful present. Maca has an earthy taste that is slightly sweet with a hint of butterscotch. Our customers actually LIKE how our maca tastes!! Maca is also a great emulsifier and can be used to draw fats together with starches/sugars in any recipe.
11. Chaga Tea Cut
Discover the wonders of chaga tea cut! Packed with antioxidants and known for its immune-boosting properties, chaga tea cut makes an excellent addition to any thoughtful present. Our chaga only comes from mature Canadian Chaga sustainably harvested from living trees from within the northern boreal forest. Our Chaga tea cut is a great gift for your loved ones with a love for tea and wellness!
12. Decaf Giddy Yo Coffee Beans
Looking for a delightful and caffeine-free gift idea? Look no further than our decaf coffee beans! Despite being caffeine-free, we still offer the same rich flavors and a satisfying coffee experience. GY coffee is good; our clean decaf fairly traded beans are fully washed, sun dried & air-roasted Arabica beans. The caffeine is extracted via Mountain Water Process (MWP) and NOT chemicals!. What does this mean for you- it means a clean, smooth, low astringency, and calming cuppa joe each time. It's a great gift for you and your coffee loving friends & fam!
In addition to Routing perfumes, deodorants, and shampoo & conditioner, we now offer Routine Body Cream! With its hydrating and nourishing properties, body lotion makes a wonderful addition to any self-care routine. Explore the benefits of body lotion and discover the perfect gift for a pampering experience. This dreamy, creamy, botanic formula does all the good things: hydrates, repairs, protects, and leaves you smelling how you want to. Currently only in Sexy Sadie scent, a sweet, spicy & delightful smell: Ylang Ylang, Sweet Orange, Vanilla & Cinnamon.