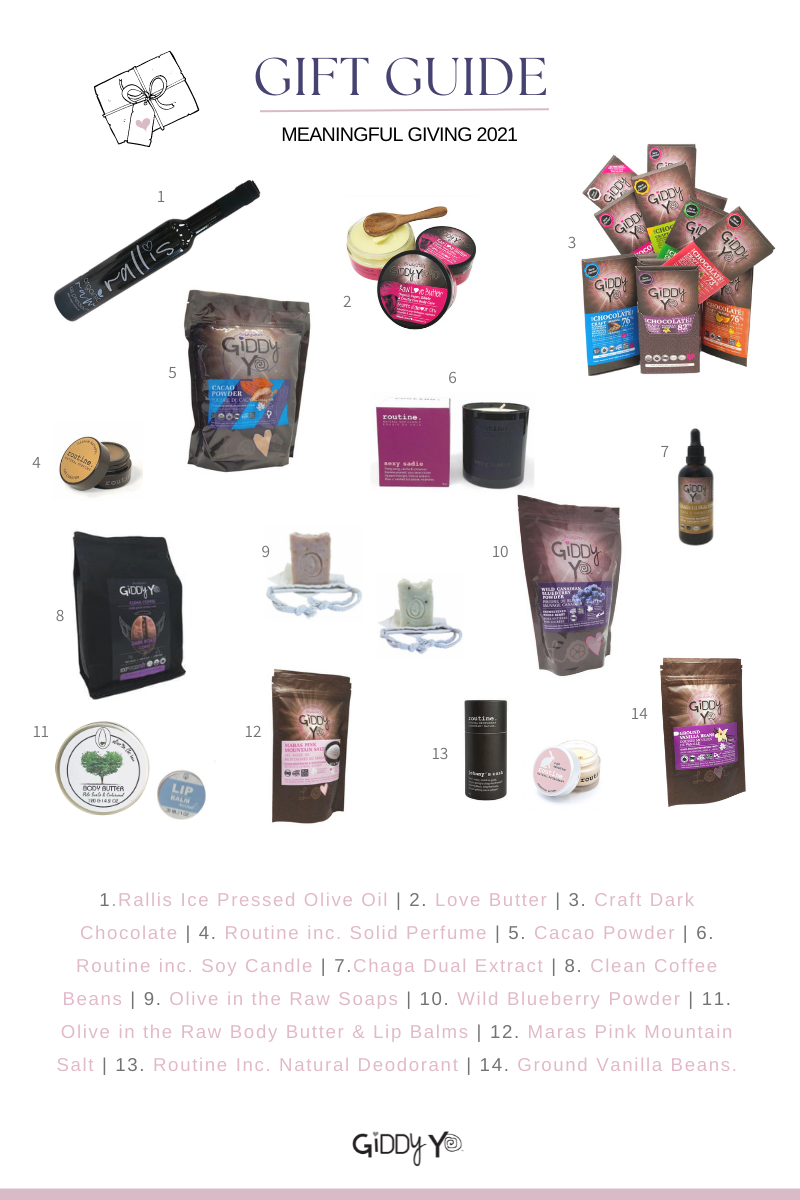 We hope you find our curated guide of meaningful gifts helpful as you navigate your way through this holiday gift-giving season!

Wishing you all joy & health and a New Year of peace and prosperity!

1. Rallis Ice Pressed Raw Organic Olive Oil
A gift that's sure to impress. Bring as a hostess gift, for the kid's teacher, or grab a case for gifting to valued employees. Rallis Ice pressed ® olive oil is as pure as olive oil gets- unblended, unfiltered, healing and a great addition to salads, smoothies, coffee, grilled veggies (after the grilling that is), or on its own as a part of natural medicinal regime.

2. Giddy Yo Love Butter
The perfect gift for new mamas, couples, the outdoor enthusiast, your best friend and the person who has everything. Four plant-based organic nourishing edible ingredients synergistically blended to create a creamy cruelty-free multi-purpose full body moisturizer. Love Butter makes a fantastic massage lotion, personal lubricant, hair mask, make up remover, baby bum protector, low SPF sunscreen & burn healer, eczema relief, coffee creamer, and the list goes on. Once discovered you'll never want to be *without (see *GY coffee below).

3. Craft Giddy Yo Dark Chocolate
Single origin premium specialty Ecuadorian cacao handcrafted and handwrapped with love, our chocolate truly is special. Eat it and take a moment to feel what's going on and you'll understand why we say this. Your friends and fam will love some (or all) 18 flavours that range from 100% - 71%. Create your own mix case of 20 and add bars to everyone's stocking!

4. Routine Inc. Solid Perfume
Toxic body care not your thing? Fantastic- then we've got you covered! Routine inc. offers all natural essential oil scented solid perfumes (and deodorants- see below) in drool-worthy and addictive scents. The perfect little present for your gurls (and dudes too- esp the Curator and Superstar). We offer 4 perfume options- the Curator, Sadie, Superstar and Hipster.

5. Cacao Powder
We offer many different forms of cacao, but the most versatile and popular by far is our cacao powder- a pantry staple! Perfect for baking (brownies mmm), smoothies, for those looking to dabble in the world of cacao, or as a "make your own chocolate" gift combined with our cacao butter + honey or maple syrup. A best seler and must have!

6. Routine Inc. Candles
We're loving these essential oil scented natural soy wax candles! Not only do they smell divine but they come packaged in a beautiful little box. Available in 2 scents; S. Sadie & D. Hipster.

7. Chaga Dual Extract
We all know someone who loves mushrooms, and for good reason! Our dual extract is made using only mature Canadian Chaga sustainably harvested from living trees from within the northern boreal forest. Easy to use, convenient and powerful.

8. Giddy Yo Coffee Beans
Our coffee is not only a staff fave, but a hidden gem! Those who discover it never want to be without* (*see Love Butter)! Our coffee is organic and farily traded, air-roasted & water washed. What does this mean for you- it means no common coffee mycotoxins zapping your adrenals (ie no jittery feeling). It means a smooth, low astringency, energizing, and calming cuppa joe each time. It's a great gift for you and your coffee loving friends & fam!

9. Rallis Olive in the Raw Soap
If you want a soap that won't dry your skin, actually lasts in the shower & is lye-free, then give these a try! Each batch is made to order and handcrafted by our good friends, so we know for a fact these are special (see #11 below). Packaged in a sweet little cotton drawstring pouch, We're into the natural lip balms, handmade soaps, and body butter so you might want to check them out!

10. Wild Blueberry Powder
Have a baker/ smoothie/ overnight oats/ chia pudding lover on your list? Our wild blueberry powder is made from whole ripened wild blueberries cultivated in Nova Scotia, To level up your nutrient load add to cereal, yogurt, oatmeal, baking, & more.

11. Rallis Olive in Raw Body Butter & Lip Balm
Small batch handcrafted bodycare made with the finest olive oil around & an epic amount of love. Rich in Vit E, our butters & lipbalms provide 24-hour hydration without clogging pores. Free of parabens, alcohol, petroleum, artificial dyes and fragrances, totally vegan and made with pure responsibly sourced ingredients.

12. Maras Mountain Salt
Hand-harvested microscopic plastic-free mountain salt created from ancient salt pans located in the Andes Mts of the Sacred Valley, Maras, Peru. Salt one of the basic elements of which your body is composed and essential to life, so be sure to choose your salt wisely! Another Giddy Yo hidden gem ❤.

13. Routine Natural Deodorant
Looking for a non-toxifying all natural deodorant that acutally works? A staff fave, we offer 11 different scents that appeal to men and ladies alike- we even have vegan options! Offered in stick and jar format. For the men, slip one of these deods into his stocking and you'll be the one thanking us. Seriously addictive you'll want to try them all!

14. Giddy Yo Ground Bourbon Vanilla Beans
Great for the baker or foodie on your list, this is a very special luxury superfood that once you try you'll never want to be without* (*see also our Love Butter and Coffee beans). Use our ground vanilla beans to replace vanilla extract for next level true vanilla flavour. A little bit goes a long way so don't let the price scare you. This is surely a gift to dazzle!